Kitesurfing | Windsurfing | Stand Up Paddling
Le Morne Peninsula is one of the most captivating and seductive addresses for the world's elite kite surf aficionado. The spot has an endless and shallow turquoise lagoon and wind all year round. Considered a paradise for kitesurfers and windsurfers, the spots have perfect conditions allowing all levels of kitesurfers to experience a great time.
Le Morne Peninsula Surfing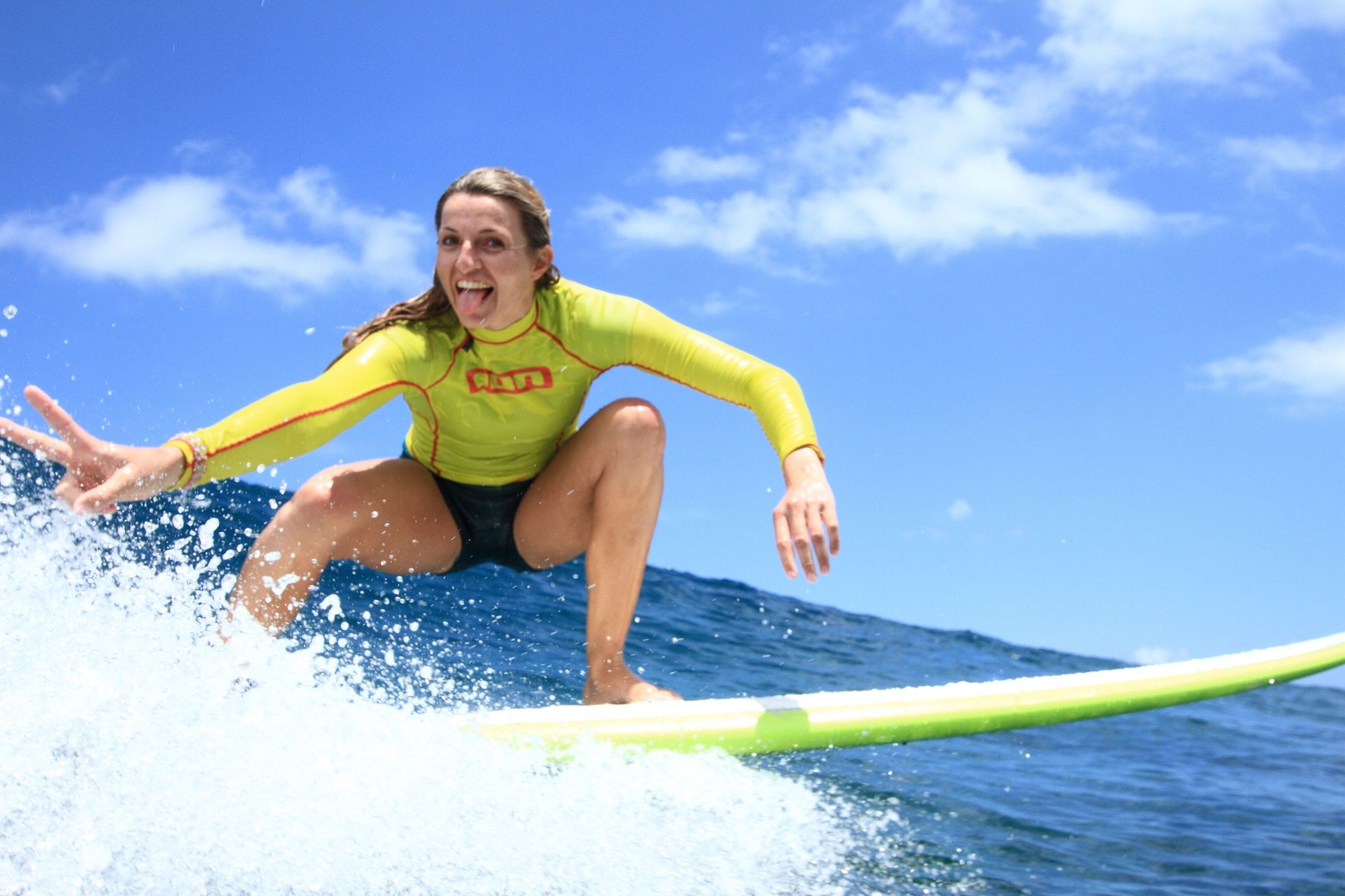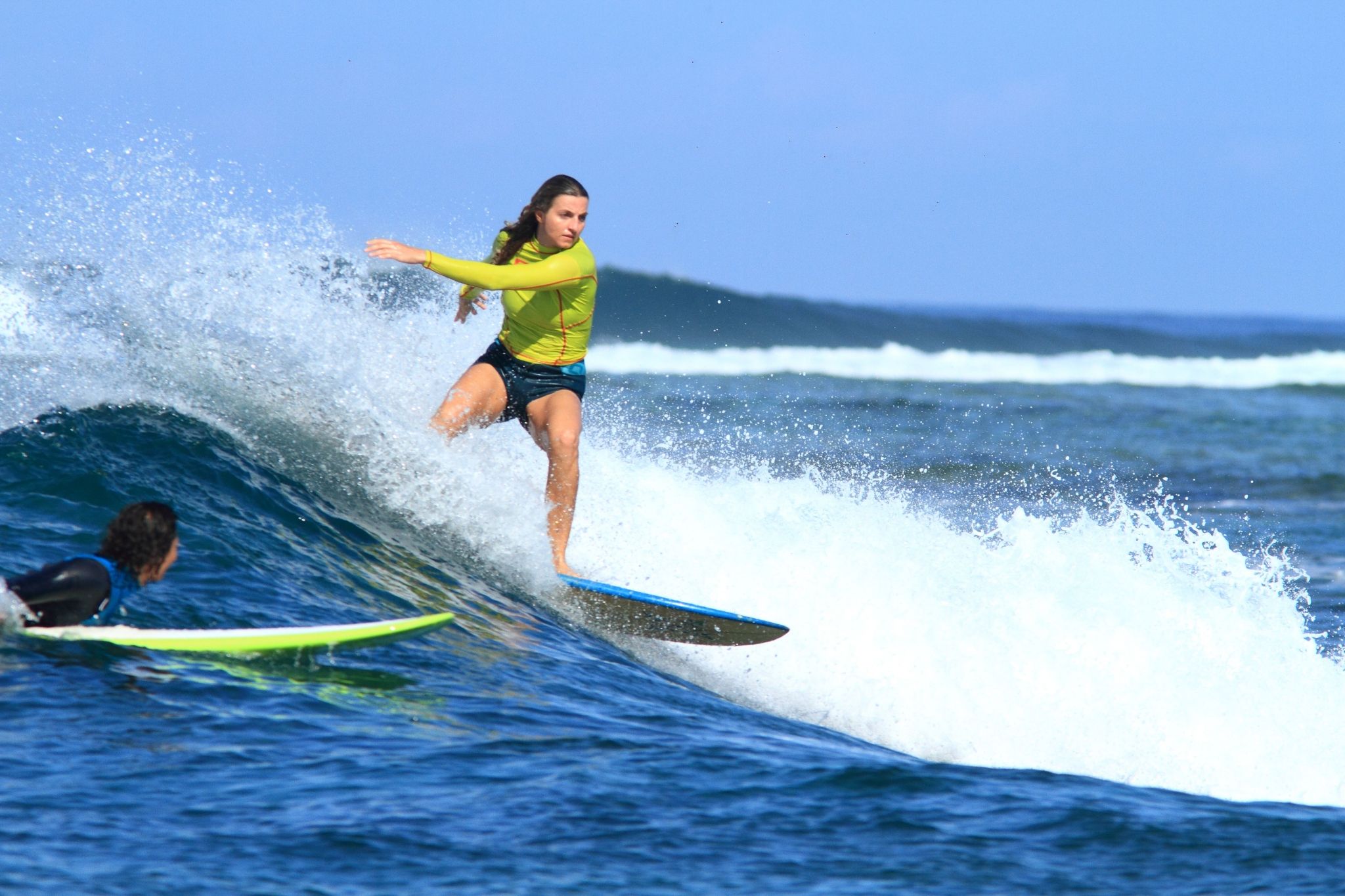 Expert wave riders may adventure to the One Eye world-famous waves whereas independent kitesurfers will enjoy the small reef Manawa and Chameaux spots of Le Morne. The wind blows mostly side to (slightly) side offshore and can have strong currents which make this lagoon suitable for intermediate to advanced level kitesurfers.
A huge flat water kite lagoon can be found at the foot of the Brabant Mountain. With its waist-deep water and onshore winds, this lagoon is perfect for learning, improving, gaining confidence, independence and freestyle manoeuvres.
In general, the trade winds are blowing all year round from the South East which blesses Le Morne with around 300 windy days a year. During the Mauritian summer (November to April), the wind is likely to be a bit lighter. In the winter (May to October), the trade wind speed is between 18 and 35 knots. The wind usually blows all day long although some mornings it may be somewhat lighter. The tide cycles of approximately six hours can have a great effect on the water levels which make the spot sometimes temporarily too shallow to go out for kitesurfing.
The St. Regis Mauritius Resort is located at the windless side of the peninsula which makes it the ideal location for non-wind-seeking guests and at the same time is footsteps away from the world-class kite surf spot known as 'One Eye'. With the common wind direction at Le Morne, kitesurfing and windsurfing are best at the corner of the resort, around 5 – 10 minutes away from the Manor House and the Watersports Centre. Advanced and intermediate kite surfers staying at the resort with their own equipment should not hesitate to request the rooms that are closest to the spot upon reservation (subject to availability).
The resort features the world's first ION CLUB kitesurf club where the transition from guest's room to the kitesurf spot is made seamless. ION CLUB offers a tailor-made service to the resort's kite surfers from the rental of first class equipment, a personalised tuition program, storage of equipment or local insider's advice.
Located at the Watersports Centre, the ION CLUB is open 7 days a week from 9:00 AM to 5:00 PM. For any further information or for reservations please contact the ION CLUB by email at prestige@ion-club.net.
The ION CLUB also offers high-level kitesurfers with their own equipment, private lessons and supervision in the more extreme parts of the spot (like One Eye) after a warm-up session and level check at Manawa. Safety is a top priority, and guests are therefore requested to kindly acknowledge on-site team's instructions at any time, as the current, tides and waves may be dangerous depending on the every day changing conditions.
Kitesurfers having reached the minimum level of consistently upwind riding can rent equipment and enjoy the luxury of the Prestige rental service. Kitesurf aficionados should not miss the opportunity to ride on one of the world's best sites for kitesurfing on the waves of One Eye. One Eye is fast, hollow and unforgiving and therefore only suitable for the most advanced wave riders.
Private lessons for beginners or intermediate kite surfers are done by IKO instructors.
ION CLUB OFFERS THE FOLLOWING SERVICES
ION CLUB is one of the leaders in international kitesurfing, windsurfing and surfing tuition and equipment rental. ION CLUB has over 30 years' experience in water sports training and development.
ION CLUB is located in the Watersports Centre of The St. Regis Mauritius Resort. It is strongly advised to pre-book lessons and equipment rental in order to ensure availability; pre-bookings can be done by e-mailing prestige@ion-club.net.
Opening Time/ Hours - All year, daily 9.00 AM - 5.00 PM
Team - Emma & Jason Falconer & Team
Spot - Private lagoon (sandbar) only with boat lessons, different wave spots, kite lagoon transport available.
Wind Direction - Predominant best wind is SE during the winter season, summer wind can be variable.
Languages - English, German, French, Russian, Creole
Important - Due to the low tide, kitesurfing inside the lagoon might not be possible on some days. Our guests are not allowed to go to One Eye or Chameaux as rescue out there is not possible.
Quantity boards/ kites - North Kiteboarding equipment Approx. 10 boards, 28 kites (sizes: 5.0m² - 17m²)
Accessories - Harness, wetsuit, life vest, helmet, surf shoes rental is limited, therefore we recommend to bring your own accessories.
Neopren - Lycra in summer (November until March), Steamer in winter (April until October).
Surf Shoes - Recommended
Equipment Storage - Yes
Safety - Private boat, Walkie Talkies
Payment Possibilities - Euro, Dollar, local currency, Visa Card, Master Card
Best Travel Period - June to November
Specials - Obligatory Safety Fee for equipment rental and storage
Learn How To Kitesurf Or Improve Your Existing Skills In The Kitesurfing Lagoon
Kitesurf Premium Lessons
The Kitesurf Premium course by ION CLUB was designed with luxury in the forefront of our minds. Our boat-assisted course allows you to enjoy kilometres of waist deep turquoise waters in privacy – away from the more crowded Le Morne Lagoon. You will be accompanied by our IKO or VDWS qualified instructor, and boat skipper, whose first concern is always your safety. The course will depart from the Watersports Centre located in the Resort.
Our experienced team will choose the best spot in the Le Morne area for your course on the day, depending on the wind direction. In North winds we will go to the picturesque waters of Benitier Island. In all other cases we will travel around the Le Morne peninsula to Ile Fourneau opposite Le Morne Village. Both destinations are approximately 10-15 minutes away by boat. Once you reach your destination, your instructor will conduct a private (one to one tuition) or semi-private (one to two tuition) course to take you to the next level. Our courses suit all levels of learning, ideal for complete beginners up to advanced riding – more experienced riders can take advantage of the premium course to enjoy freestyle sessions and wave adventures! Courses aretailor-madee to the level and ability of each student.
A Kitesurf Premium course will last approximately 3 - 3.5 hours. During which time the instructor will guide you through your next steps of learning using the latest available North Kitesurfing equipment. The instructor will be in constant contact with you via radio helmet. Your private boat and skipper will always be close by for your support. No need to walk back up-wind to the starting point, hop on the boat! Your skipper will drive you there whilst you take a few minutes to relax and enjoy a cold refreshing drink from our cool box selection. Show off your surroundings to friends or keep up with your e-mails in these breaks, we have hotspot WiFi access from our boat.
Faster progression is guaranteed in this course. There is so much space just for you, no need to worry about other kites around you, just enjoy the freedom!
You will be filmed during your course at the appropriate stage of learning. This footage will be used for video coaching and can then be edited with music and effects to create a personal movie of the action! We will show you the premiere of the movie, starring you, at La Palme D'or – The exclusive St Regis Mauritius Resort private cinema. You will receive your movie on an ION Club USB. Read more about ION Club Media Package.
Additional Information
Surf Premium
Experience the many waves of Le Morne with your own surf guide. We provide Surf Premium Adventures for beginner surfers wanting to catch their very first waves to the most advanced surfers who wish to stare straight through the barrel of One Eye.
Our surf guide and skipper will take you to the wave most suited to your ability on that day. If you are a beginner surfer it may be the small waves directly in front of our ION Club. These small waves are ideal for learning. It works here in high tide in bigger swells. It is very safe for beginners here as it is inside the lagoon so currents are not too strong. Your instructor may also take you to Small Reef for your first rides. Small Reef is a right hand wave (meaning it breaks from right to left when looking from the beach). It is situated 400m from the beach and works best in North winds, offshore winds or no wind. If you are an intermediate to an advanced surfer, there are waves here to satisfy your needs! Your surf guide will assess your ability and take you to the most suited wave for you. It could be Manawa – situated 2km from the shore. Manawa is a left hand breaking wave, breaking on the coral reef; this wave is for the more advanced surfer and can get very big even if there are small swells elsewhere. Another wave for advanced riders is Ambulante – This wave is an exposed reef break and a fast left-hander. Ambulante works best in southwest swells and in east, southeast winds. If you have the skills, our guide will love to surf with you in our world famous wave, One Eye. Located right in front of The St Regis Mauritius Resort, One Eye is a very fast left hand breaking wave. It breaks on really shallow coral reef – home to lots of sea urchins. One Eye works best in high tide and with light southeast to northeast winds.
Surf Premium sessions are the most safe and convenient way to experience your surf sessions in Le Morne. The boat will always be by your side for safety. Our skipper will be there taking photos to capture THE moment.
Kite Surf Equipment Rental
We offer a large range of the latest North Kiteboarding equipment to rent.
Together, we will select the ideal equipment for you on that day – you can change the size and type of kite and board depending on your preference and the conditions daily. We will then travel to the kite lagoon by car (a 5-minute drive). Here, our team will give you a detailed description of the spots and weather conditions.
You can then enjoy the thrill of kitesurfing in Le Morne! The Kite Lagoon is a large flat-water lagoon, where the wind usually blows on-shore. The picturesque backdrop off Le Morne Brabant contrasting with the turquoise water is the ideal setting to improve your skills. If you want to explore some fun choppy waves, this can be done a little further out past the point of the lagoon where our ION Club windsurfing station is located. From here, venture even further out to find some real waves! Enjoy the surf on Le Morne's famous waves including Small Reef and Manawa.
Rental can be arranged by the hour, a day, consecutive days, week or consecutive weeks.
To rent Kiteboarding equipment, you will need to have your IKO level 3.